This September, Cedar joined TechCrunch Disrupt 2021 for a breakout session "Hacking US Healthcare: How a Simple Platform Can Help Solve a Complex Problem."
Led by Cedar Co-founder Arel Lidow and featuring Cedar CTO Hassan Sultan and a16z General Partner Julie Yoo, the near hour-long discussion focused on how we inherited the broken healthcare system we have today and how technology can play a key role in improving the patient journey and healthcare outcomes for all Americans.
To watch the replay click here.
How the heck did we get here–and how can we "hack" our healthcare system?
Kicking off the discussion, Arel pointed out that the U.S. spends about twice as much on healthcare compared to other developed countries but clinical results are no better–and the actual experience of patients is totally divorced from modern consumer expectations. But how did we get here?
As it turns out, World War II was a decisive factor in the evolution of U.S. healthcare. At that time, the government had to print a huge volume of money to fund the war, yielding serious concerns about inflationary dislocation. So the administration established price controls and a wage freeze that forced businesses to look at other ways to compensate workers–namely offering health insurance.
The result? A vastly decentralized system. So decentralized that it took until just a few years ago for the industry to significantly adopt digital tools in the form of electronic health records (EHRs) and clearinghouses. But this hasn't made things better. Why?
Most data is still unstructured and disorganized, the ability to transfer data hasn't evolved and billing administrators are many steps removed from the actual patient.

"But the good news is that for the very first time the U.S. healthcare system is now in a position where doctors and hospitals are now widely using basic technology that we can build upon," Arel added on an optimistic note.

"I think that the two big opportunities to improve the system are first building around the system as it exists today and to use machine learning and artificial intelligence to make use of the unstructured information that's floating around everywhere. We see a new horizon of technology adoption within the U.S. healthcare ecosystem. We're incredibly excited about the doors and options that this is going to unlock for everyone."

Find out about Cedar's strategy to "hack" the existing system in Arel's introduction here.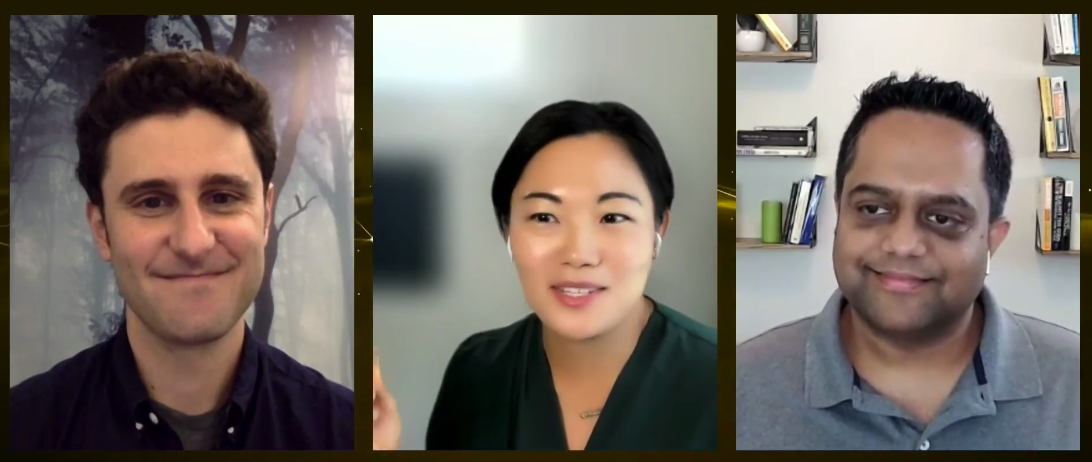 How we can "fundamentally rewire healthcare from the ground up"
After his introduction, Arel opened up the panel discussion with Hassan and Julie to get their input and perspective around healthcare's trajectory and the role technologists and technology will play in the industry's transformation.
Julie agreed with the overall trajectory of how we got here and said she genuinely believed we're currently at a "phase shift" moment in time.
"The first generation of healthtech products from 2010 to 2019 were about taking manual processes and turning them digital. We're increasingly seeing the opportunity for health companies to really fundamentally rewire the processes from the ground up to open up net new capabilities and increase the surface area of shared models in ways that weren't possible before, largely driven by changes in things like payments [which] are creating new incentive structures."
Hassan agreed and underscored that while there's massive opportunity to make the changes, we still have to use the existing complex systems while simplifying the patient experience.
"Even if you build around the system with a direct integration, there's a lot of complexity in that system and you have to be very careful to not let that complexity bleed into your own product, because then it will bleed into the patient experience, which needs to be very simple," he said. "We have to really build an interface between our core integration platform and our core product that presents a canonical data interface."
Curious about how and why Julie Yoo thinks we can now fundamentally rewire healthcare? Check out 14:07 here.
What development approach, team and infrastructure is needed to "hack" the system?
According to Hassan, Cedar has thought deeply about building the right team and tools to take up the task.
"The first thing is keeping the mission focused specifically on the patient. You can just pull a limited amount of data and still present a bill that's meaningless to a patient, or you can pull a lot of data, but present a much more meaningful answer to a patient's actual question. That's a big part of Cedar's culture.
Next is structuring your team with user experience, design and data science embedded within your engineering and product teams as peers so they can really help you define world-class delightful patient experiences. Lastly, back to that core integration challenge, I think a classic ETL approach is inferior to an ELT approach for a variety of reasons in this space. The ELT approach allows you to more easily debug issues and shield you [from human error]."
Want to know the three key components to hacking U.S. healthcare? Check out 29:32 here.
Learn what companies are building around the mess of healthcare technology, the tactics that are most effective, a16z's priorities, the problems of healthcare data interoperability, which companies are most effectively using AI and much more by watching the full replay. And to check out openings to join our engineering team and hack U.S. healthcare, click here.
We'll be having a follow-up interactive event on Hacking US Healthcare with a viewing session and live Q&A with Cedar Engineering leadership in December - stay tuned to our events page for more!